Increase Net Revenue and Patient Safety and Satisfaction with AccuReg EngageCare
Patient safety and satisfaction have never been more critical to your hospital's success. Delivering on these patient priorities goes beyond the care they receive. In fact, many patients have greater anxiety about the financial and administrative aspects of healthcare than they do about the care itself. Patients want and expect an intuitive digital experience that makes engaging with their care as simple as shopping on Amazon or booking travel on Expedia.
Learn More About EngageCare
AccuReg EngageCare – Integrated Patient Access, Intake and Engagement
EngageCare lets patients safely engage with their care in the consumer-friendly way they expect while driving higher patient volume and net revenue. Our innovative solution combines the front-end of your revenue cycle with digital patient intake and engagement tools, creating a seamless intuitive experience for staff and patients alike.
EngageCare is delivered via a single platform that natively integrates disjointed systems for patient access, patient intake and patient engagement. This integration helps your hospital and health system protect and grow revenue as you embrace consumerism and give patients greater safety and control over their healthcare experiences.
Enable Consumerism. Ensure Data Integrity.
At the core of the EngageCare platform is a sophisticated rules engine that is continuously updated and tailored specifically for each customer. It uses automation and artificial intelligence, including robotic process automation (RPA), predictive analytics and machine learning, to identify and prevent issues and errors that cause rework, inefficiency and denials. By doing this at the front of the revenue cycle, problems that increase costs, collections and write-offs are eliminated. At the same time, EngageCare automatically audits 100 percent of patient accounts, checks demographic data, propensity to pay, and validates benefit coverage specific to patients' scheduled appointments.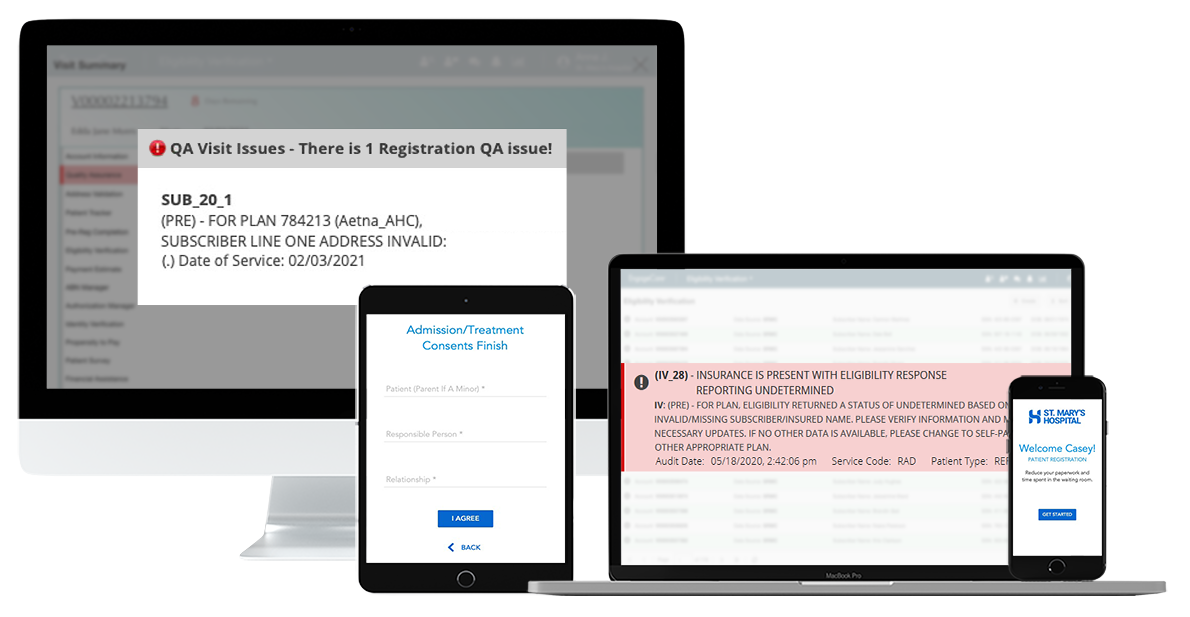 "Since implementation of AccuReg, our registration proficiency has increased tremendously. Incorrect information caught at registration, less insurance claim denials due to insurance eligibility reviewed and less reworks. AccuReg staff are professional, personable and efficient in all aspects from development to staff training. We would highly recommend AccuReg to any facility seeking to improve the registration process."

Laurie Mires
Patient Financial Services Coordinator, Cabinet Peaks Medical Center
Outcomes
Improve patient safety, satisfaction and loyalty
Increase net revenue and pre-service cash collections
Prevent denials and avoidable write-offs
Reduce cost and rework
Redeploy resources to higher priorities
Enhance visibility as a market leader
Consolidate and align vendors and systems
Ensure data integrity
Enable consumerism and the digital experience patients demand
Learn More About Our Solutions