Automatically Prevent Errors at Pre-Registration and Patient Registration That Cause Denials and Lost Revenue
Typos, missing information and human error are inevitable in any data entry setting, and if undetected and uncorrected, these preventable errors cause rework, denials, unnecessary costs and lost revenue. It's time to focus on patient access optimization and stop the back-end cleanup that's wasting time and money.
EngageCare Registration Quality Assurance increases patient registration accuracy by using software and a proprietary rules engine to automatically audit 100 percent of your patient registrations, identifying hundreds of types errors. Real-time alerts on registrars' work queues flag accounts that need corrections and deliver clear instructions to registrars of how to correct errors and submit clean claims.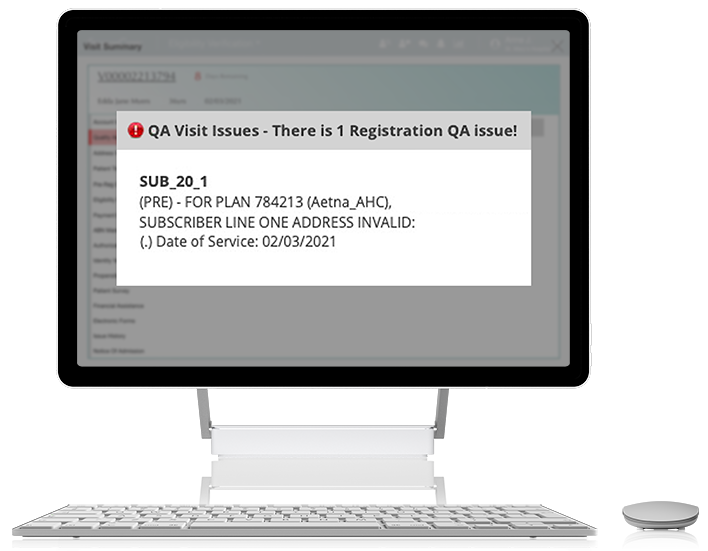 Learn More About Quality Assurance
I don't expect perfection from vendors but I do expect responsiveness. I get that from AccuReg. If I have a question or if I encounter a problem, they respond that day. Their response time is another key reason I've been an AccuReg client for more than 10 years. I truly consider them a partner.

Rodney Adams
Associate Administrator of Finance, Williamson County Medical Center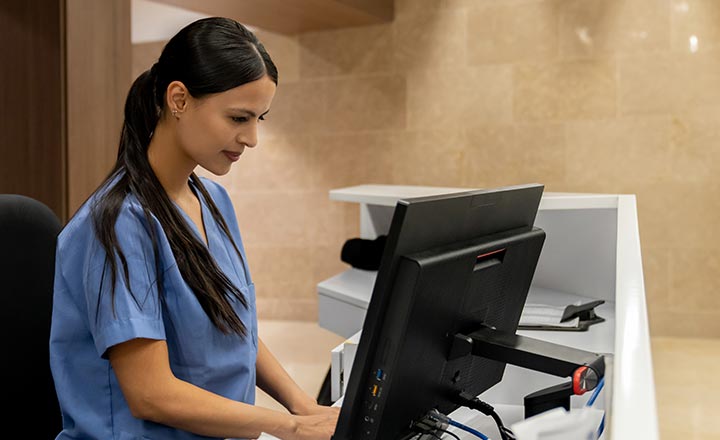 EngageCare Patient Registration Software Learns While it Earns
The answer to improved net patient revenue lies in your front-end processes. Denials prevention—not management—is the key to reducing bad debt, write-offs and protecting net patient revenue.
AccuReg patient registration software audits and alerts:
Automatically validate all patient, guarantor and subscriber addresses against the USPS database
Use an intelligent guided registration process to provide hospital staff with specific scripting to correct issues
Re-audit registrations after any changes and receive alerts to warn if any updated information is still incorrect
Issue high priority alerts to designate urgent issues that will cause payment denial
Flag accounts with errors for easy access
Suggest specific training criteria to help increase registration accuracy
Exceed Industry Standards in Patient Access
Even with integrated intelligent software, improving the effectiveness of your staff is critical to the success of your revenue cycle. AccuReg is the only software that embeds NAHAM's AccessKeys® into our patient access solution to provide hospitals with national benchmarking standards and best practices. Customized educational courses and tests serve as an evaluation tool for supervisors to view and measure staff performance.
Improve your hospital's patient registration accuracy and prevent denials before they happen. Contact our team by completing a contact request form or calling us directly at 866-872-7498.
How AccuReg Registration Quality Assurance Works For You
Capabilities
Automatically audit 100% of patient registrations
Customized rules with unlimited edits
Scheduling, pre-registration and registration auditing
Staff training and testing
Scorecards, dashboards and ad-hoc reports
Address validation
Volume and/or frequency threshold alerts
Patient survey
Simplified e-form templates for common patient access documents
Outcomes
Prevent denial-causing errors
Reduce bad debt and rework
Increase pre-service revenue
Decrease costs and lost revenue
Increase clean claim rates
Improve consistency, quality, accuracy and speed of registration
Improve patient satisfaction
Lower returned mail cost
Improve patient access department efficiency
Exceed industry standards in patient access
Measure staff performance
Learn More About Registration Quality Assurance With These Related Resources: