Verify Service-Level Benefit Coverage, Reduce Patient Eligibility Denials
Chances are, insufficient information and inaccuracies in patient eligibility verification are chipping away at your net revenue with unnecessary rework, costly denials and lost patients. Insurance provider rules vary for service-type coverage, and if your insurance eligibility verification software vendor is only giving you a transaction and isn't automatically auditing real-time eligibility data based on your specific payer rules and denial patterns, you'll continue to spend needless time and money on rework and denials.
It goes without saying providers should be verifying eligibility on every account – and ideally several times prior to service. Failure to recognize non- or partial coverage for procedures will not only cost your hospital time and rework, you'll have unhappy patients that might reschedule services and even worse cancel altogether, losing critical revenue for your hospital. AccuReg Eligibility Verification isolates likely denial-causing payment risks before they occur, providing an exception-based workflow to the registrar with intelligent alerts that include how-to correct instructions for issues, such as wrong payer, non-coverage, benefit limitations, etc.
Learn More About Eligibility Verification
We avoid hundreds of denials…saving us the time of giving away free medical care when we're not going to get paid for it. So it's absolutely helped with denials.

Matthew Kall
Lead Financial Applications Analyst, Beebe Medical Center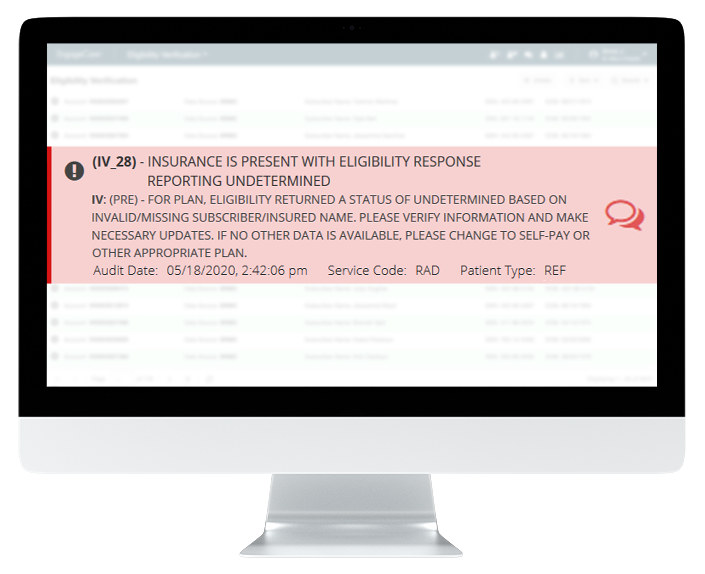 Insurance Verification Made Easy
AccuReg insurance verification is intelligent software that is far more valuable than the transactional data most vendors provide. It arms your staff with the patient eligibility information needed to make necessary updates on the front-end of the revenue cycle and avoid costly denials. Our approach goes far beyond simply moving transactions from the payer to the provider. It consists of two levels of automation: eligibility verification, plus benefit mapping. We use our intelligent rules engine to analyze remit data and isolate likely denial-causing payment risks before they occur by sending alerts and edits to your registrars.
Our next generation Eligibility and Benefit Verification software:
Audits real-time eligibility data based on specific payer rules and historical denial patterns
Empowers registrars with intelligent alerts that include instructions on how-to correct issues, such as wrong payer or benefit limitations
Provides alerts and reports to supervisors for added accountability, identification of training opportunities and quick resolution to issues
Confirms service-level benefit coverage
Detects found coverage to ensure maximum payment for services
Reduce Denials, Expedite Registrations, Improve Patient Satisfaction
Many hospitals are unaware they are losing money every day to preventable, eligibility-related denials. AccuReg's real-time insurance eligibility verification helps hospitals recover money they've already earned by reducing denials by as much as 50% in the first six months of usage. That means more net revenue in your pocket, faster patient registration and reduced service delays, improving overall patient satisfaction. Learn how your hospital can reduce eligibility- and benefits-related denials. Complete a contact request form or call us at 866-872-7498.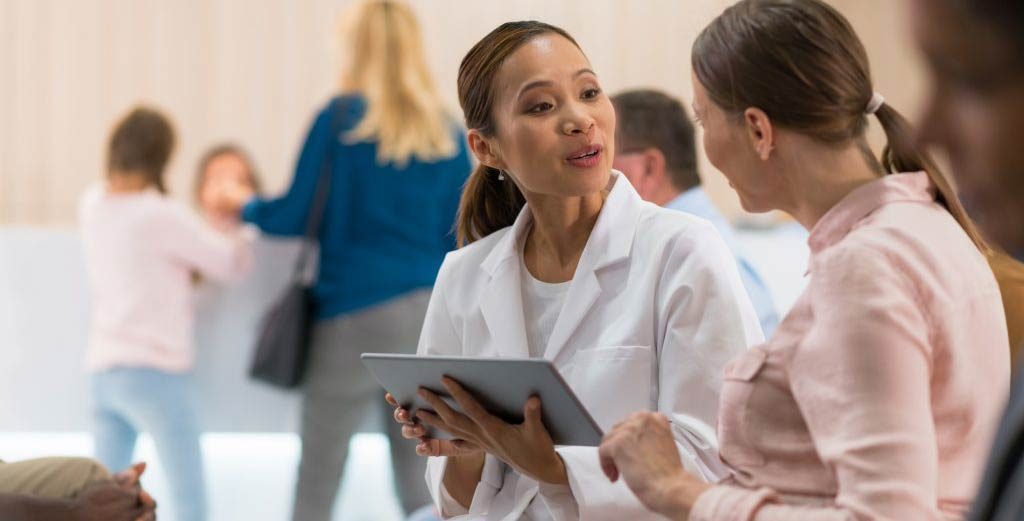 How AccuReg Real-Time Eligibility Verification & Benefit Mapping Works For You
Capabilities
Benefits verification ​
General and targeted service verification ​
Exception-based workflow issue alerts with corrective details
Automated batch and manual real-time submission​
Self-Pay verification​
Found coverage detection​
Coverage change detection​
Real-time audit rules alerting​
Benefit threshold alerting ​
Coordination of benefits alerting​
RTE, 270/271, HL7 transactions​
Benefit post-back to EMR​
Outcomes
Decrease denials and rejected claims​
Increase clean claim rates​
Improve visibility into full benefit coverage​
Standardize interpretations of general and targeted eligibility responses​
Improve registration speed​
Improve staff efficiency ​
Learn More About Eligibility Verification With These Related Resources: