Eliminate the Paper Trail and Expedite Patient Registrations with Customized Online Patient Forms
Ditch clipboards and lengthy, frustrating registrations and go digital with EngageCare Digital Intake Forms. Our intuitive technology creates digital versions of all required patient forms and medical assessments, allowing patients to complete pre-registrations from their mobile devices or at in-office kiosks or tablets you provide.
Our image capture and OCR capability enables patients to upload their drivers' licenses and insurance cards, reducing time and errors, while removing staff burden. Finally, our technology captures electronic signatures to complete the process and collected data can be converted back into your required format to be printed or digitally stored.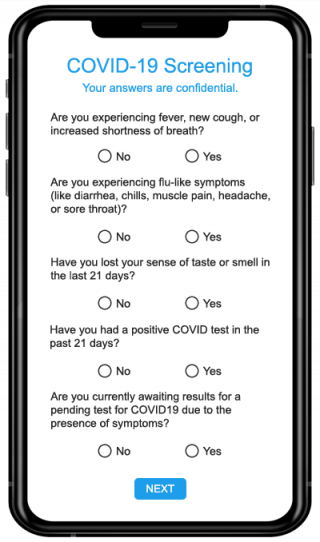 Learn More About Digital Intake Forms and Clinical Workflows
Capabilities
Digital alternatives for all paper forms, assessments and surveys
Eliminate need for staff to key data and the related errors
Pre-populate patient information for verification available from previous visits
Patient eSignatures using their own devices or tablets and kiosks you provide
Image capture and OCR using mobile devices
Convert data to required document formats for your digital or printed filing requirements
Automated or staff-initiated patient communications for information required
Personalization, including diversity and inclusion-sensitive data capture and storage (e.g. name preference, birth date reminders, notable milestones)
Outcomes
Improve patient and staff safety by minimizing in person and surface contact
Increase staff efficiency and throughput time
Minimize patient wait times and improve patient flow
Create hassle-free environment for patients that increases satisfaction
Enhance brand reputation as a leader in digital patient engagement
Elevate patient experience using personalized reminders
Redeploy staff to higher value activities as patients complete administrative tasks
Allow patients to bypass the waiting room
Complement and increase value of patient portal and EHR through seamless integration
Increase staff coordination across departments within health systems and hospitals
Retain and increase patient volume
Facilitate patient registration and communication for telehealth
Increase patient data accuracy