Know How You'll Get Paid Before Service is Delivered
As payment liability tilts from payers to patients, it's likely your hospital is struggling to collect full and prompt payments. Higher deductibles are making it harder for your patients to pay. Hospitals that don't identify a patient's ability and willingness to pay before the delivery of services will write off more and more bad debt every year.
Financial Assistance Screening Can Help
The key to financial survival comes with understanding. When you intuit a patient's financial circumstances you can determine the best course of action to support payment. AccuReg Financial Assistance Screening uses predictive technology to assess the patient's propensity to pay and guides your patient access team in how to handle the account in compliance with your hospital's financial assistance policies. It helps the registrar determine whether to attempt to collect the patient's payment, offer a payment plan, convert to charity care or offer financial assistance.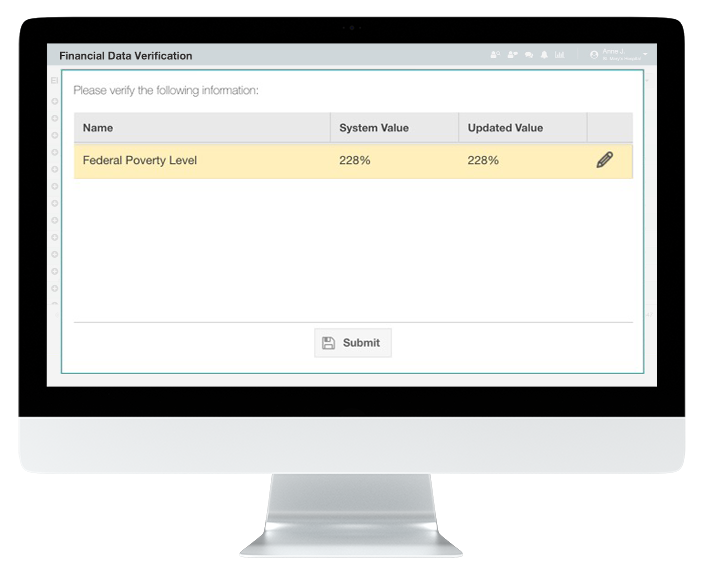 Learn More About Financial Assistance Screening
"I want to personally thank you and your team for all of the great things you have done for Oneida Healthcare as well as the positive impact it has on this community!"

John D. Milligan
Vice President of Finance,
Oneida Healthcare
How AccuReg Financial Assistance Screening Works For You
Patient ability-to-pay segmentation screening
Approved discounts, payment terms and loans
Pre-screening for presumptive charity and eligibility
Consistent application of financial assistance policies
Automated workflow in compliance with 501(r)
Learn More About Financial Assistance Screening With These Related Resources: