Confirm Patient Records with Integrated Biometric and Demographic Verification
AccuReg's Biometric Identity Verification is a quick and easy way to ensure patient identity. Using a comprehensive process, patients check in with a fingerprint scan that is automatically linked to the correct Medical Record Number (MRN), increasing patient safety while reducing fraud. During this automated identity verification process, patients' demographic and insurance information is compared to external government, consumer and payer databases to further assure complete and accurate patient information.
Streamlined Registration
AccuReg Identity Verification provides a straightforward and user-friendly method to identify patients. And once established, it reduces subsequent registration times with faster authentication and access while reducing patient wait times–a win/win for you and your patients.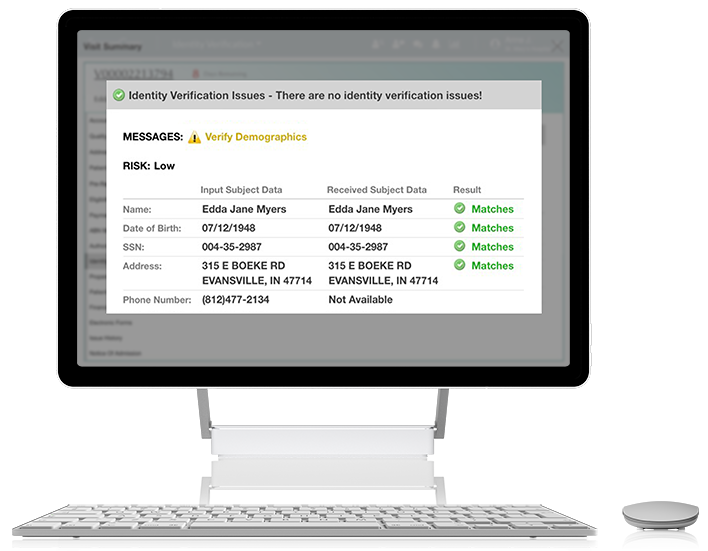 Learn More About Identity Verification
"AccuReg has proven to be one of the most dependable and reliable software systems I've ever encountered. I might add the best customer support ever, too!"

Kathy Abdelaal
Q/I Systems Manager, Faxton St. Luke's Healthcare
How AccuReg Biometric Identity Verification Works For You
It's multi-layered: biometric verification is combined with demographic verification for a comprehensive approach to Identity Management. This ensures accurate and complete patient information and prevents duplicate medical records, patient safety risks, medical fraud and ensures first-pass reimbursement by payers
Duplicate Prevention: AccuReg Identity Verification links each patient's fingerprint to the correct MRN to identify and prevent duplicate medical records, overlaps and overlays, ensuring patient safety and red flag rule compliance
This two-step process identifies and prevents duplicate medical records and overlaps in the MPI
Learn More About Identity Verification With These Related Resources: